Don't drown in drafts! Go bulletproof.
We all know it: contract version control is a huge headache. So many drafts floating around between different parties, questions about who did what, lack of clarity around which is the current version and how it's actually different from previous drafts…it's a mess!
Outlaw's new version control tool helps increase the efficacy of your collaborative efforts in the negotiation phase.
Here's how it works in a nutshell: Every time an edit is made, a new version is created. Each version shows who made specific changes, can be compared side-by-side with previous drafts, and can even be instantly restored in one-click.
1. Break it down with section-specific versioning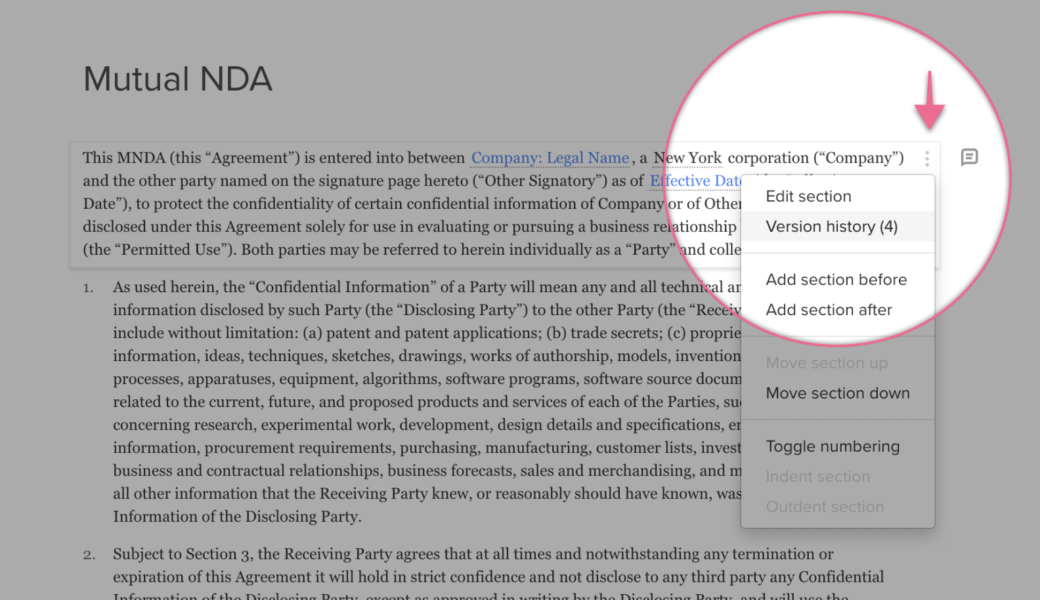 When you think about it, comparing versions of entire drafts doesn't make much sense. In the real world, parties are editing many parts of a document all at once, and each issue gets resolved at its own pace.
So our version control lets you compare and update sections one at a time, so you can approve sections that are truly done or keep negotiating what still needs work. Break it down, get it done, and keep it moving!
2. Compare with confidence
View every difference that exists between the most recent version and any other version, or toggle "show differences" off for a "clean" comparison.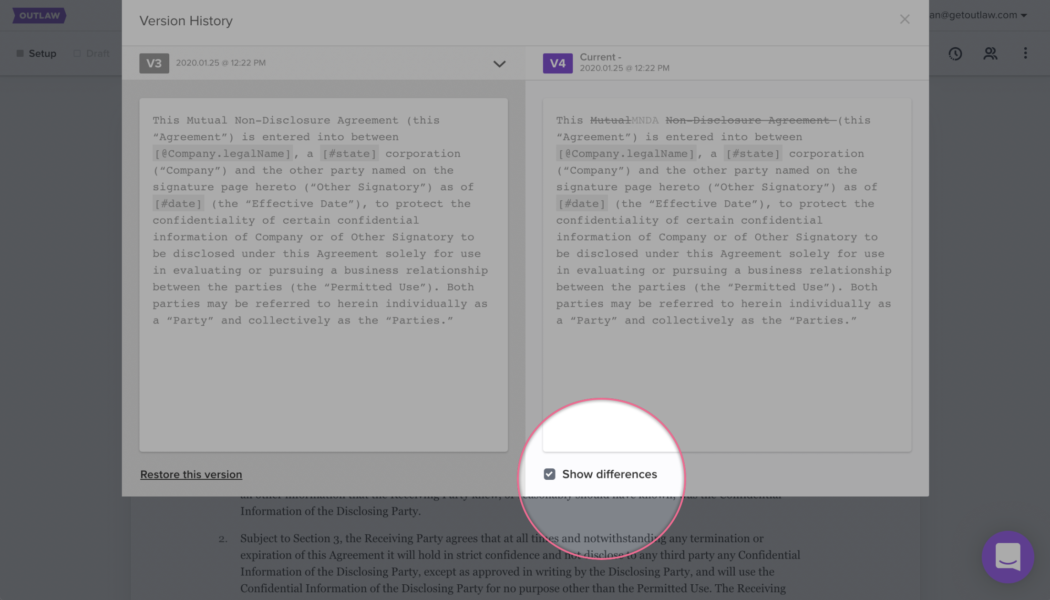 3. Instantly restore earlier versions
All new drafts are stored automatically so you can easily restore an earlier version in just one click. Yep, that means you can confidently make edits without worrying about saving over a previous version!
BONUS: because version control is section-specific, you can restore an old version of a single section while keeping the rest of the edits you've made to your document in the meantime intact.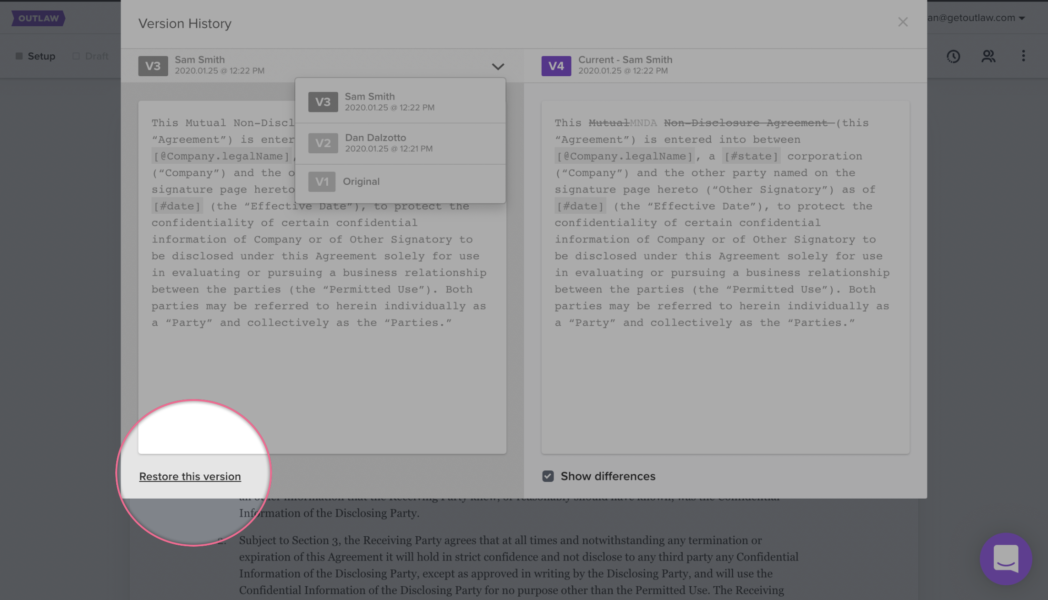 4. Time-stamped record of who did what
Each version shows which user saved specific changes at what time, so you are never left wondering who was responsible for a certain round of edits.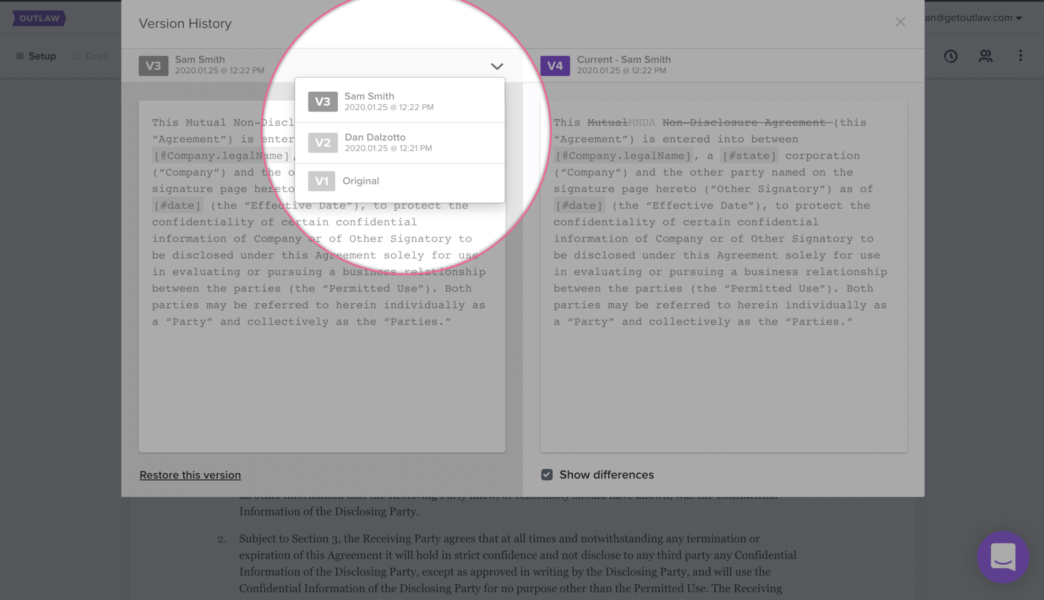 5. Version control with or without redlines
While it's true that version control and our awesome redlining tool make quite the dynamic duo, all of the features described above work when you are drafting solo, too! Modify, compare and restore versions like a boss–even if you're just bossing yourself around 😉
Simple, beautiful, powerful.
Done the old way, negotiation and rounds of edits can turn into a huge mess, fast.
With Outlaw's version control tool, you can easily edit, store, compare and manage contract versions in a central location. And we've also gone beyond the basics by making versioning section-specific, so tackling contract edits has never been more intuitive or flexible.
Better version control means better collaboration, better contracts, and greater revenues. We've just put you firmly in the driver's seat of your contract editing process. So don't be shy—it's time to take control!
To learn more about Outlaw's version control capabilities for third-party-paper, read this article. To see the platform in action, schedule a live demo with us!