Contract Management Pricing
Unlimited contracts.
Unlimited storage.
Unlimited agreement.
Dealmaking isn't one-size-fits-all and neither is your business. Outlaw offers flexible pricing options based entirely on the solutions your business requires, with best-in-class support you deserve. Build a plan that fits your team of today, and scale it to fit your team of tomorrow. No maintenance fees. Lightning-fast implementation.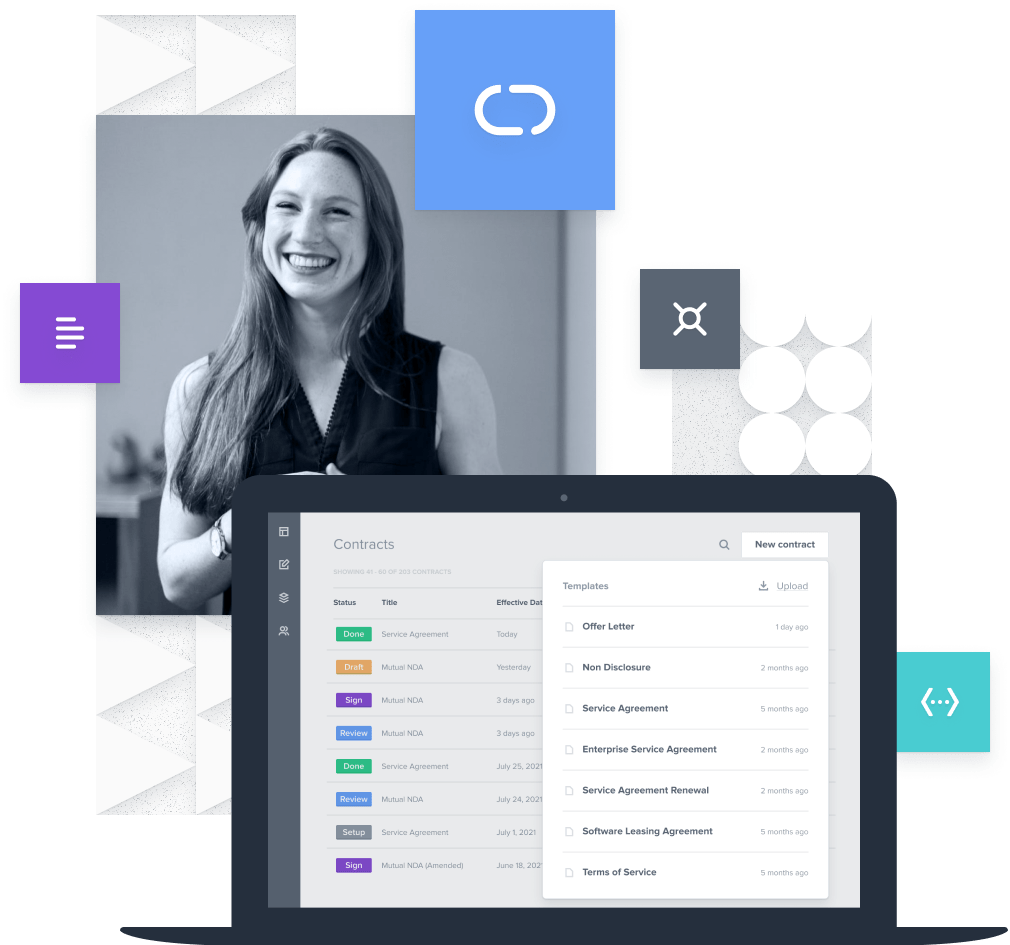 Build a plan that fits your needs.

Assemble a team of Core Users and Collaborators to match the way your team works.

Core Users

Get Started

Collaborators

Get Started

Draft

Template Owner + Creator
Team Management
Granular User Permission Settings
Customized Workflows
Reporting + Metrics
Clause Library
Clause Conditionality

Flow

Contract Creation & Storage
Unlimited
Unlimited
Native eSigning
Unlimited
Unlimited
Real-time Redlining, Editing, Commenting
Approval Workflows
Email Notifications
Version History + Audit Trail
3rd Party Paper Management

Vault

Team Reports + Dashboards
File Import + Export
Full-Text OCR Search
Saved Filters & Tagging
Deadline Reminders
Bundle + Save
Enterprise-grade solutions for teams of all sizes
Need more? We offer powerful feature add-ons that radically elevates digital contracting for your organization, without the hefty price tag. Work with us to tailor a plan that meets the specific needs of your team. Talk to our experts about:
Batch contract generation
Legacy migration
White-label environments
Pre-built integrations (i.e Outlaw for Salesforce)
Legal work management powered by Filevine
Get your customized pricing
Frequently Asked Questions
How does Outlaw pricing work?
Pricing is based on the number and type of users you require, as well as your desired level of access to add-on features and services. Our plans are designed to ensure teams of any size can leverage Outlaw in a scalable and cost-effective way, and we'll work closely with you to tailor the right plan for your organization. Get in touch with us to build your plan.
What is the difference between Core Users and Collaborators?
Think of Core Users as the owner of the account. They have full control of templates, have access to reports and can manage their teams. Collaborators are active users and signers. They can draft, collaborate, and manage contracts but cannot edit templates.
Do you offer view-only users/licenses?
Yes, we do! Our view-only license allows an internal user to search, view, upload and download contracts with no editing rights. To add view-only licenses to your plan, please talk to one of our experts.
I have a batch of contracts to import — how would that work?
We offer legacy migration (DocX and PDF format) for an additional fee. Get in touch to receive a custom quote. You can also read how we launch batch imports differently than other vendors here.
Do our clients or recipients need to pay to access Outlaw?
No, Outlaw is free for all contract recipients. There are no eSignature limitations.
Is there a minimum contract term?
Our minimum contract term is 12 months to ensure the utmost success of our clients.
What level of onboarding and support do I get?
Outlaw clients are fanatics not just because of the product, but because of our unparalleled customer partnership. Every user gets access to our live-chat, email support and extensive knowledge base with training materials. Dedicated customer success managers, extended implementation, ongoing training are also available to suit every need.
Tell me more about your integrations and API
Outlaw is designed to work the way you do. Our suite of standard integrations powers thousands of seamless connections, ensuring rapid implementation with your existing tools. Customize your workflows to your exact needs through our secure REST API. Read more about Outlaw API and integrations here.
Are you part of Filevine?
Yes! Outlaw was acquired by Filevine in 2021 to radically improve the way we do legal work. Outlaw will continue to be available as a standalone platform. For more information about the acquisition, read here. To use Outlaw and Filevine together, please talk to one of our experts.
How secure are you?
Security and privacy are essential to contracts, so they're essential to everything we do here at Outlaw. We are SOC 2 compliant and hold our full stack to the highest global privacy and security standards. Please visit our security page for more detailed information.