Q3 just ended, and we've finally arrived at the final quarter of the year. For most companies, Q4 is often the busiest and most important quarter, since it's the lynchpin to the full year performance. And especially so for this wild year. We all want to finish it strong and start 2021 on the right foot.
Yet, the last quarter is typically the most challenging and distracting. Selling time is cut short between holidays and vacation times (yes, people are still taking time off in 2020), and people are usually checked out during this period. More than not, this means decision makers might postpone signing to next year. Just because.
But that doesn't mean you should just leave your number up to others. Quarters don't just happen, they're made. And the start of October is the time for sales teams to take full control of their deals, and ensure closing dates don't get pushed to Q1 unnecessarily.
Our Head of Sales, Eric Rosenthal shared with Sales Hacker his top Q4 sales tips for sellers to get ink on paper (or as we like to say, eSignature on PDF) by year end. Here's a summary:
1. Identify All Contract Stakeholders
Many sellers underestimate the time needed to actually get a signature on the dotted line. Typically, the contract has to go through the approval of multiple stakeholders outside of the decision making unit before it can be inked. General Counsel, Contract Managers, Heads of Finance are common titles in this process that sellers often overlook.
To save time, ask to be introduced to the contract stakeholders beforehand. This way, you can redline and resolve contract issues with the right people directly, eliminating the need to constantly go through the middleman for contract edits.
2. Set a Firm Contract Execution Deadline
More often than not, sellers refrain from setting a firm contract deadline to avoid coming across as too pushy and risk their deal backfiring.
However, setting a clear timeline for the contract will create a sense of urgency and discourage "signing procrastination". This is especially important when you're trying to close a deal by year end.
There are many ways to implement a firm deadline without coming across as too aggressive. For example, you'd typically ask your prospects early on in the sales process when they plan to implement a solution by. Leverage this deadline to push for a firm contract execution date. Like this:
"As discussed, once we get the contract signed by August 20th, I'll make the introduction to our onboarding team, and we can get you up and running by September 1st."
3. Provide a Contract Overview
If you don't come from a legal background, contracts can be extremely difficult to understand. Especially since these agreements are fundamentally designed to protect parties from legal risks, both sides have to ensure they understand the terms fully before committing a signature. Needless to say, this need for caution lengthens time-to-signature considerably.
An effective way sellers can shorten time-to-signature is to provide an easy-to-understand overview together with their contracts. Walk your recipients through your contracts first at a high-level. Briefly explain what the agreement is about, where its different variables can be found, and if there are any key clauses to take note of.
For example, our sales team overlays our sales contracts with an Overview (using Outlaw's platform shown below) to recap key contract terms for our clients' convenience. The contract variables that appear in the Overview are pulled from the actual contract document so our clients know it's accurate.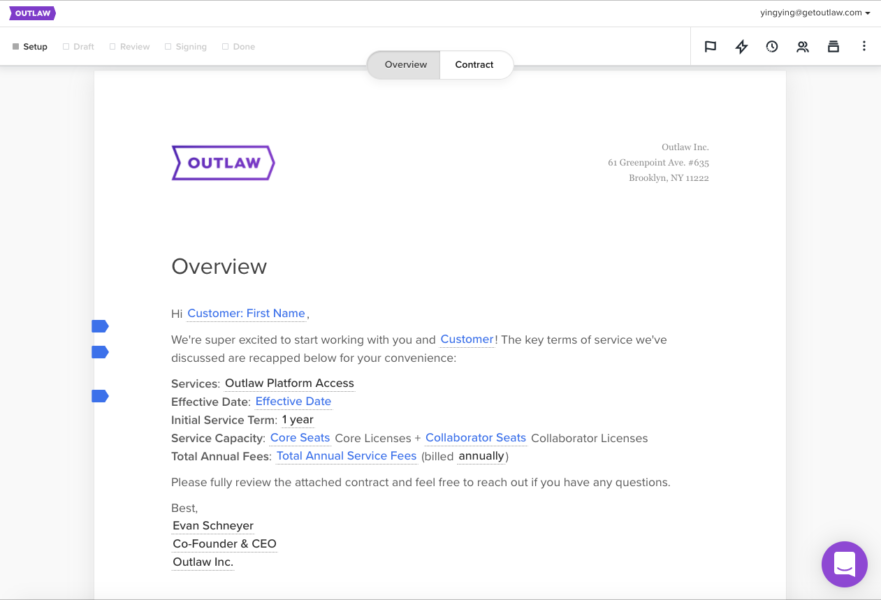 We also use Outlaw's Overview feature to explain certain key contract clauses in plain language. For easy reference, we link the Overview sections together with the sections they relate to in the full contract. This allows both senders and recipients of the agreement to easily refer back to the contract full-text while looking at the Overview.
4. Use a Contract Lifecycle Management Tool
And the last tip, but certainly not least — leveraging a tool purpose-built to help you get your sales contracts signed faster.
We're in an age where sales teams need to equip themselves with the relevant tools in order to stay ahead of the curve. Tools like Outreach for outbounding, ZoomInfo for prospecting, Salesforce for tracking. And then there are contract lifecycle management (CLM) tools that help sales teams automate their contracts to get their signatures faster.
By streamlining the entire contract process from generation to negotiation, execution and beyond, CLM software closes the gap on companies' sales tech stacks to form an unparalleled deal closing machine.
"After implementing CLM software, we've saved everybody so much time from the back and forth and the waiting. End-to-end — from generating the contracts to having clients sign — it has been 80% faster to close deals."

Sean Green, SVP and Head of Direct Sales at Intrado
Learn more: 5 Ways Sales Leaders Use Contract Management Software to Close Deals Faster
Conclusion
Sales contracting contributes to a significant 18% of the enterprise sales cycle, so poor management of this process can make or break whether a company hits their quarterly and annual goals.
But there are plenty of techniques you can use to influence the contract process and stack the deck in your favor — the above 4 tips included.
Try these Q4 sales contracting tips out, and let's finish the year strong!
Read the full article on Sales Hacker.
Q4 sales tips