Outlaw is all about transparency. That's why we made it super-easy to create contracts all parties can understand by building an Overview feature into our template editor. And we're the first in the industry to do so… 😉 Here're 5 ways the Outlaw overview feature helps you close deals faster and smarter:
But first…what are Overviews?
Overviews let you highlight important deal content and ditch the jargon for plain English; but since they aren't legally required, you might be tempted to skip this step when creating your templates.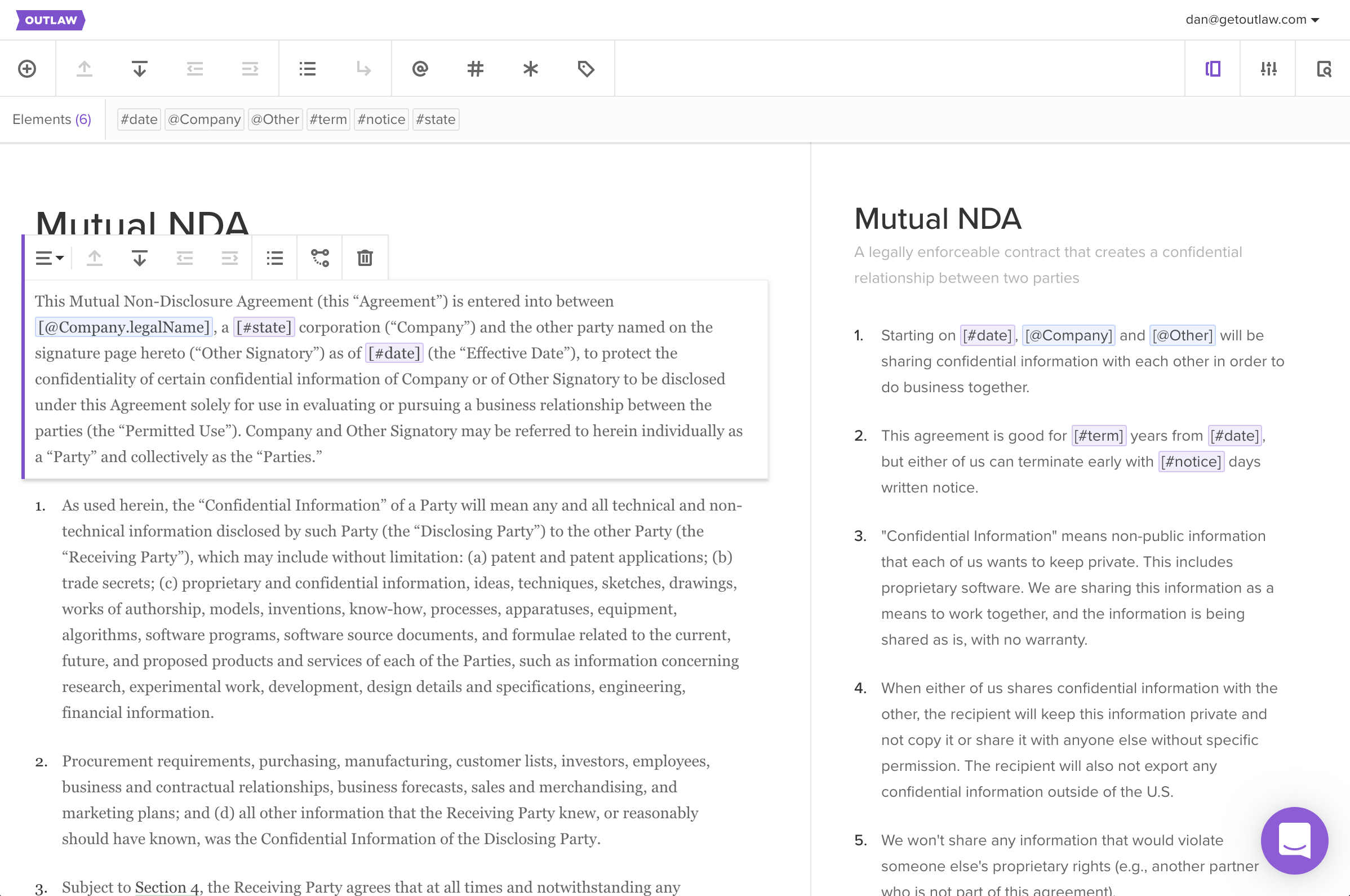 This would be a big mistake! Overviews are more than just summaries; they smooth out and speed up the entire process, so when you skip the Overview, you miss out on an important part of how Outlaw supercharges your deal flow.
1. Lightning-fast, error-free drafting
Each time you generate a new contract on Outlaw, you have to fill out dynamic fields with deal-specific information like the names of contract parties, the date of signing, and anything else that varies from contract to contract.
If you set up an Overview that includes all of these fillable fields, you can see at-a-glance all of the information that needs a response, instead of scouring through the entire agreement (probably a long and complicated document). Even better, when you fill in these fields in the Overview, Outlaw auto-fills the corresponding contract full-text, so your entire agreement drafts in seconds.
This is a huge benefit to the sender, who can rest assured that they won't accidentally share an incomplete draft, and it's also a major benefit to the recipient, who does not have to go hunting around for the few bits of information it may be their responsibility to provide. It's all right there in the Overview!
2. Linking sections
Most Overview sections relate to content in the full contract; so it makes sense that while looking at the Overview, you may want to refer back to the contract full-text from time to time. But it's a pain to have to keep switching back and forth between viewing modes, so Outlaw lets you link related sections together. Once sections have been linked, clicking on an Overview section reveals the corresponding full-text sections underneath for instant reference!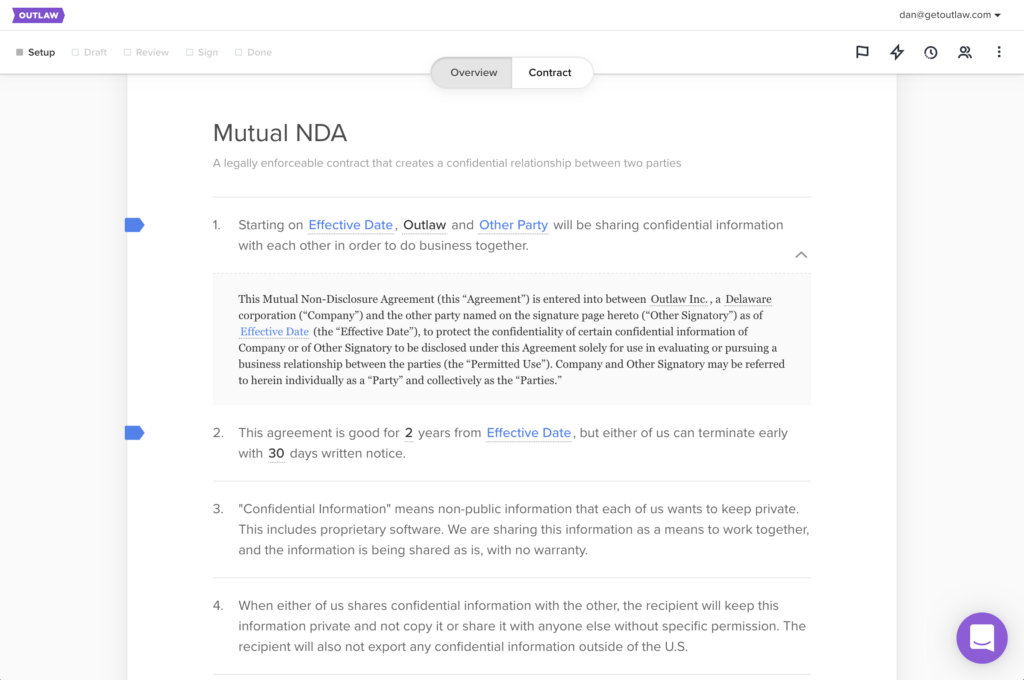 3. Setting the tone
Contracts are rarely communicative. They outline rights and obligations, but they don't have any…flavor. Or humanness.
Overviews can make a world of a difference. By including a simple greeting in your Overview, you can express to a new team member that you're glad to have them on board, or tell a new customer that you appreciate their business. Overview content can also convey organizational culture, from professional and formal to casual and friendly. In other words, Overviews let you set the tone for the whole deal process—and, by extension, for the relationship being created through it!
4. Orienting the recipient
Overviews are also great for orienting a contract recipient to the deal process itself. You can give directions for filling out the legal documents and forms attached, provide information about how much time each step in the process may take, and offer answers to common questions.
This is a total win-win. The recipient appreciates the assistance as well as the personal touch, and the sender is spared the back and forth usually required to answer every question, as well as the delays that result from incomplete or incorrect paperwork.
5. Saying it plain
So, as you can see, the Overview is far more than just a summary. That said, don't overlook the value of a summary, especially in legalese-land!
Ultimately, making it easier for all parties to understand their agreement saves time, money, and headache for everyone down the line. So it's not surprising that more and more companies are starting to put their "Terms and Conditions" into plain English; they realize that transparency is just good business!
But Outlaw is the only contracts platform that has transparency built into it—so we hope you take advantage of the Overview feature to demystify contracts for your employees, customers, and all your contract recipients.
Remember: Overviews supercharge your deal process, so don't skip 'em!
Interested to find out more about Outlaw's Overview feature and contract management capabilities? Watch this 5-minute demo video or schedule a live product demo.